Four Favorites: Random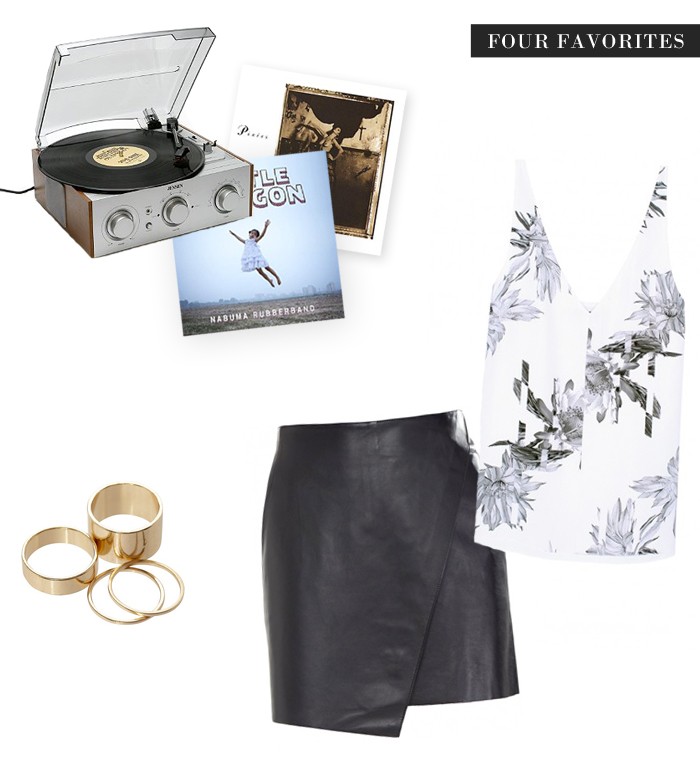 Is it Wednesday already?! The extra long weekend (Tuesday wasn't part of the weekend you say? Oh well...) was so much fun. We spent some time at the pool (hello sunburn), went to the fair, celebrated Mr. Jackson's 25th birthday and I did some shooting for the blog with my friend Ginny from Sleepy Fox.
Since it's already time for another four favorites post, I'm sharing a few things I've been loving, doing and eying this month!
RECORD COLLECTING - Mr. Jackson and I have been working on a collection for years. With a trip to Huntsville's Vertical House Records under our belts, we've got quite a few new titles on the wishlist and I'm dying for a new player.
SOMETHING TROPICAL - Summer is here! Since the season is all about bright colors (which, frankly, I'm just not that comfortable in) and fun patterns, I'm adding this Tibi tank to my list of wants needs. The tropical print is perfect for days by the pool and black/white/grey is a color scheme I can get behind.
SUMMER LEATHER - Leather is a staple texture in my wardrobe. I love to wear my (faux) leather trousers and (real) leather jacket in the cooler months, but it's already reaching the 90s in Alabama. What's a girl to do? Try this Helmut Lang skirt until it's safe to cover your legs again.
RINGS, RINGS, RINGS - I've been wearing a mix of midi and dainty gold bands (mine are from H&M) nonstop lately! I love the little extra detail they add to every outfit.
share your favorites