4 Essentials for Memorial Day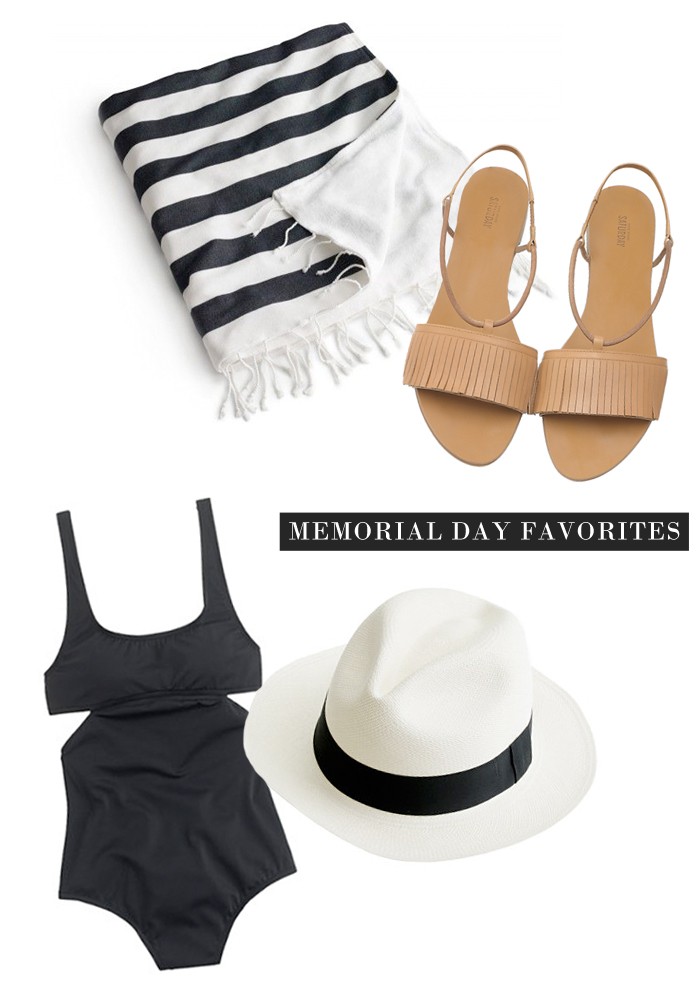 It's been quite a while since I took part in Ashlyn + Kristin's four favorites link-up (I know, I'm a baaaad blogger) but I'm finally revisiting my favorite blog feature. Since this weekend is Memorial Day weekend (hello start to pool season, I've been waiting on you), it's high time to bring out the bathing suit I've been hiding away and a few more warm weather essentials. Mr. Jackson's birthday is on Monday so hopefully we'll spend the extra day celebrating and hanging in the sun.
Nine Space for J.Crew Beach Towel - I'm usually not one to tote a cute towel to the pool but it's definitely time to invest in something a little more chic than the bright beach towels we've had for years. Bonus: the classic stripes will never go out of style and this one's big enough to double as a beach blanket.
Saturday Fringe Sandals - I've seen these sandals everywhere lately and finally it hit me... they're adorable! I love the fun fringe detail and the soft brown shade is perfect for the transition from Spring to Summer.
J.Crew Cutout Suit - I picked up this suit while Lo and I were in DC and I'm so excited to finally bring it out and take a dip in the pool! The fit is super flattering and the interesting side cutouts keep the one-piece (a first for me) from looking matronly.
J.Crew Panama Hat - My panama hat is basically my best friend. I've been wearing it (and carrying it around... it's the best accessory) since picking it up in March. Since the sun is shining blazing now, I have a feeling I won't be leaving the house without it anytime soon.
link up your favorites
a few more favorites
[show_shopthepost_widget id="62392"]